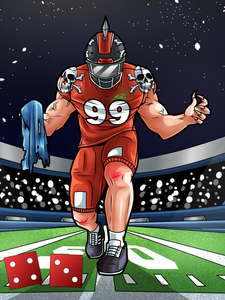 These are individual seasons for the 4th Street Football board game.

There are three formats are available:
The classic "Team Sheet" format lays out players in offensive and defensive formations, averaging four per team. 
The "Perforated" format is the same as cut line, except the cut lines are replaced by perforations.
The "Cut-Line" format is now available only as a download.  If you prefer it, order the "Team Sheet" format and include a note with your order.
All formats are printed on 8.5" x 11" loose-leaf card stock in black and white.  The top 42 players from each team are included.  If you would like to fill your rosters with others, order the "
Xtra Players
" for the season you are interested in.