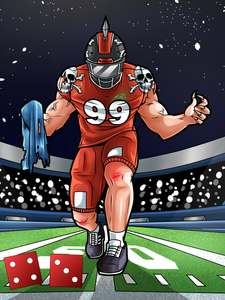 The following sheets are provided as a service to our loyal customers to enhance their enjoyment of the game. They may be downloaded for free and printed on standard 8.5" x 11" paper or card stock. Although care has been taken to insure their accuracy, the method in which they are used will alter their statistical integrity. 
 
Please read the instructions below, then click on the link for the season you wish to download below. All files are in PDF format so that they are browser-compatible. If you don't have Adobe Acrobat Reader installed on your computer, you may need to install it, first.
Instructions for using Offensive Play Calling Sheets 
 
To select a play, survey the situation on the field, including score, time remaining, etc. Select a situation (Normal, Short Yardage, Long Yardage, Hurry-up, Slow-down). Then, roll three 10-sided dice (you could use red, white and blue) and read them in order (as an alternative, you could roll the single d10 which came with your game three times). Dice rolls range from "000" to "999". A play is selected by looking under the "Dice" column for the range which your dice combination fits.  

For example, three d10 colored red, white and blue are rolled with a red "2", white "9" and blue "7", giving a combination of "297". The offensive team is in their "Normal" (in this case, Pro Set) offensive formation. In this case, the play selected is play #9, a "HB End Run": 

If you don't have three d10, you could just roll the d10 which came with the game three times. If the first roll were a "5", the second a "6" and the third a "1", the combination would be "561", which is play #14, a "HB Screen". 

Sheets have been saved in PDF format.